Nursing
Opportunities in nursing are abundant in a growing and changing health care industry. For more than a century, the nursing education offered at Clarkson College has and continues to prepare students for a rewarding career in their chosen field of health care.
The Nursing program at Clarkson College offers a Practical Nursing diploma, Bachelor of Science in Nursing (BSN) degree, Master of Science in Nursing (MSN) degree, Post-Master's certificate and Doctor of Nursing Practice option.
The Practical Nursing (PN) program, offered on a part-time basis and very convenient for students who are currently employed, will lead to a diploma in Practical Nursing and eligibility to write the PN licensure exam (NCLEX-PN).
You can choose to complete the Clarkson College undergraduate Nursing program as a BSN student (four-year college schedule), LPN to BSN student (for individuals who are currently licensed as a licensed practical nurse), or as a RN to BSN student (for individuals who are currently licensed as a registered nurse and have either an Associate's degree in Nursing or a three-year Nursing diploma).
The Master of Science in Nursing (MSN) program provides five options for graduate students including:
Family Nurse Practitioner

Adult

–Gerontology Primary Care

Nurse Practitioner

Nursing Education

Nursing Health Care Administration
For those who have already earned a Master of Science degree in Nursing, Post-Master's certificate options are available for students interested in Family Nurse Practitioner, Adult–Gerontology Primary Care Nurse Practitioner, Nursing Education and Nursing Health Care Administration. The RN to MSN program is designed for individuals who are currently licensed as a registered nurse (RN) and have either an Associate's degree in Nursing or a three-year Nursing diploma.
The Doctor of Nursing Practice program is designed for Master's degree prepared registered nurses interested in improving health care delivery systems. The program provides expanded knowledge of how to demonstrate leadership and apply innovative decision-making in an evidence-based environment. It is offered online and can be completed in as few as seven semesters.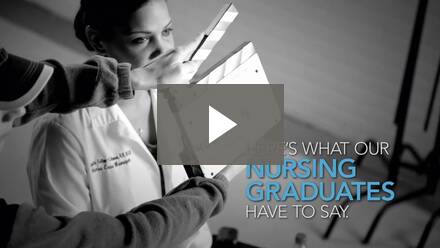 Mission
Preparing nurses to provide high-quality, ethical and compassionate health care services to individuals, families, communities and populations.
Philosophy
We, the nursing faculty of Clarkson College, believe we possess the knowledge, skill and attitude to educate individuals for the professional practice of nursing. We are committed to scholarship through lifelong learning and the pursuit of knowledge. Consistent with the Clarkson College Values, the Nursing faculty value Learning, Caring, Commitment, Integrity and Excellence in our professional relationships. We are dedicated to the dignity, health and spiritual needs of people. We are committed professional nurse educators who foster nursing education in a caring environment.
We believe the study of nursing is consistent with and fosters the Mission and Values of Clarkson College. Our beliefs regarding human beings, environments, health, education, nursing education and nursing are contained within the Nursing program's philosophy. A human being is an individual who consists of a mind, body and soul developed through interpersonal relationships and influenced by environment, culture and health. Environment is a set of dynamic physical, cultural, political and economic conditions that influence the lives of individuals, families, communities and populations. The individual is in constant interaction with an ever-changing global environment. Nursing recognizes the impact a person's environment has upon health. Health is an individually perceived dynamic state of well-being. Nursing is a humanistic and scientific care discipline and profession.
We profess that education is a formal process of organizing concepts and elements, planning appropriate activities, facilitating individualized learning experiences and evaluating subsequent outcomes. We ground nursing education in the totality of the human experience through the study of the humanities, arts and sciences within the scope of nursing practice. We believe students are partners in the educational process and encourage learning by discovery, curiosity, clinical decision making, experience, reflection, modeling, collaboration and interactive participation. We model service to the College and community, and celebrate the diversity of human beings.
We believe there are various educational levels within nursing. The practical, baccalaureate and graduate nursing programs within Clarkson College represent these levels. Practical nursing education provides for entry-level technical practice, while the baccalaureate in nursing is the entry level for professional practice. Graduate nursing education prepares the professional baccalaureate nurse for advanced practice and expanded roles within the discipline. Our programs allow for articulation from one level of nursing education to the next and flows from simple to complex.
We believe caring is the foundational core of the nursing profession, and it is the energy present in empowering relationships. Caring for clients includes the ability to teach, lead and inspire individuals and groups toward optimal health and wellness. We, the Nursing faculty at Clarkson College, believe that caring is the essence of nursing and the most central and unifying focus for nursing practice. Our students are educated in the concepts of caring, client-centered care, teamwork and collaboration, evidence-based nursing practice, quality improvement, safety, informatics and professionalism.