Medical Imaging
Your future as a radiologic technologist is more promising than ever with a Bachelor of Science degree in Medical Imaging from Clarkson College.

The Clarkson College Medical Imaging (MI) program offers students courses and X-ray training in specialized modalities like computed tomography (CT), magnetic resonance imaging (MRI), angiography/interventional procedures, mammography, quality control, bone densitometry, imaging informatics and management.
This degree includes theory coursework with opportunities for hands-on experience through externships. This advanced education in radiography will prepare you to provide the care that leads to diagnosis, treatment and cure. As a graduate, you may be eligible for advanced registry certifications by the American Registry of Radiologic Technologists (ARRT).

For maximum flexibility, you can complete the program through our robust online campus, which offers all of the same services enjoyed by on-campus students, including:
Reliable uptime of 99.99 percent for our online programs.
Highly interactive Medical Imaging courses.
Dedicated instructors who care about your success.
First-rate technology integration.
Interactivity with instructors and students.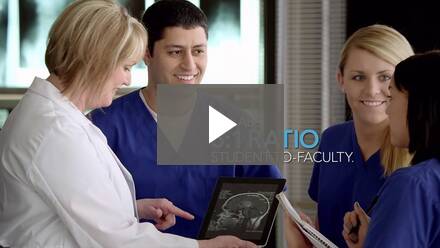 Program Outcomes
Upon completion of the Bachelor of Science in Medical Imaging program, you will be able to:
Communicate effectively.
Use critical thinking skills.
Use technology skills to perform specialized imaging procedures.
Care for patients in a manner that shows respect for cultural differences.
Exhibit professionalism.
Dual Degree
As a Medical Imaging student, you can also take advantage of our dual degree option, which allows you to simultaneously work toward your Associate's degree in Radiologic Technology. The supplementary radiology education will prepare you for additional career opportunities within the medical imaging profession.

Philosophy
The discipline of medical imaging focuses on the pictorial representation of an individual's state of physical health. The creation of this image requires a liberally educated, compassionate professional who is technologically skilled. Because this discipline is in a constant state of technological advancement, the successful professional will also be an avid lifelong learner.

Academic Catalog