Nurse Anesthesia
The Clarkson College Nurse Anesthesia program prepares its graduates to provide safe, individualized perianesthetic patient management, incorporating critical thinking, effective communication and professionalism. Our students receive optimal experience in the advanced nursing practice of anesthesia through diverse, quality didactic and clinical educational experiences. Our certified register nurse anesthetist (CRNA) faculty members and clinical instructors are vested in our students' success, and our small class sizes provide the individualized attention needed to optimize your experience.
The Nurse Anesthesia program offers two options for completion of this Master's-level degree. The traditional tract is a 30-month option, front-loaded with a 12-month didactic phase, followed by an 18-month clinical phase. In the extended tract option, the didactic phase is completed over a two-year period, allowing increased flexibility for students who prefer to continue working. The clinical phase is the same in both tracts.
The Clarkson College Nurse Anesthesia program is accredited by the Council on Accreditation of Nurse Anesthesia Educational Programs (COA).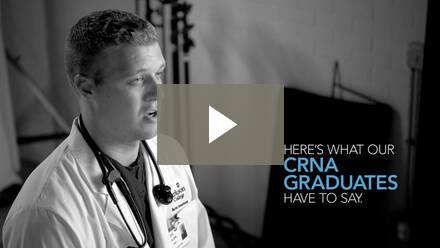 Learn more about the admission criteria and application process

Academic Catalog
Course Descriptions
Curriculum Plan

Accreditation
Accreditation from the Council on Accreditation of Nurse Anesthesia Educational Programs (COA)
222 S. Prospect Avenue Park Ridge, Ill. 60068 PH 847.655.1160
accreditation@coa.us.com
Program Outcomes
The attrition for the 2012 graduating Nurse Anesthesia class was 10 percent. Of the nine students who graduated, eight passed the National Certification Examination on the first attempt, and there was a 100 percent pass rate with the second attempt. Upon graduating, 100 percent of students in the class received positions of employment within the nurse anesthesia field.