Clarkson College is a mission-driven organization that takes pride in its long-standing history dating back to the late 1800s when Bishop Robert H. and Meliora Clarkson laid the foundation for the future of health care education.
Clarkson College has prepared students to professionally provide high quality, ethical and compassionate health care services for more than 130 years. Our devotion to excellence in education began in 1888, when the Bishop Clarkson Memorial Hospital accepted its first nursing student. Meliora Clarkson fulfilled the vision of her husband, the late Bishop Robert H. Clarkson, and guided the hospital to greatness by establishing a training school for nurses, which became the first in the state of Nebraska. By the end of the 19th century, the institution earned a reputation for graduating skilled, professional nurses who distinguished themselves in their careers.
The tradition of excellence continued into the next century as the hospital and school adapted to changing trends in medicine. The hospital moved in 1908 from its original site at 1716 Dodge Street to 2100 Howard Street to keep up with the growing demands of nursing education. The new facility featured classrooms, elevators and large wards where in 1918, Bishop Clarkson Memorial School of Nursing students tended to flu victims as the world reeled from the Spanish Flu pandemic.
The hospital moved in 1936 to a larger building at 26th and Dewey Streets where student nurses trained and went on to serve their country during World War II. During the last half of the 20th century, the training school transitioned into a College and earned accreditation in the 1980s. The College settled into its current site at 42nd and Dodge Streets in 1992 and changed its name to Clarkson College.
Throughout the institution's history, no tradition has been more significant than the underlying philosophy of compassion and caring exhibited by our founders, Bishop Robert H. and Meliora Clarkson. Service plays a significant role in the history of the College, with generations of Clarkson College students answering the call to a life spent helping others. Our academic programs weave service learning into the curriculum, and students' commitments to caring begin the moment they enter the classroom. Along with College faculty and staff, students complete a combined estimated 8,000 hours of service every year, a true testament to Clarkson College and its legacy.
Clarkson College proudly carries on the tradition of excellence today by graduating more than 350 health care professionals annually in Nursing, Healthcare Education and Leadership, Physical Therapist Assistant, Radiography, Medical Imaging, Healthcare Business and Administration, Health Information Management and Community Health. Bishop Clarkson's vision to care for our community and neighbors lives on in the services and care provided by our students and graduates.
---
Historical Timeline
1869: Bishop Clarkson Memorial Hospital Established
The institution known today as Clarkson College began as a vision of Bishop Robert H. Clarkson in the late 1800s. Bishop Clarkson wanted to see the establishment of a first-rate nursing school in Omaha, and the realization of his vision began in 1869 with the opening of Omaha's Good Samaritan Hospital. Seven months after its opening, the hospital was transferred to Bishop Clarkson.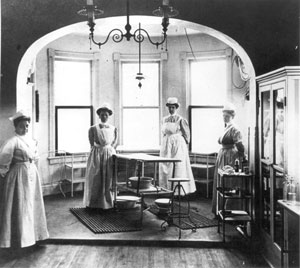 ---
1884: Bishop Clarkson's Vision Lives On
Bishop Robert H. Clarkson died of pneumonia in his home at the age of 58 on March 10, 1884. His wife, Meliora, collaborated with the Trinity Episcopal Cathedral deaconesses to complete his vision by establishing a training school for nurses.
---
1888: Bishop Clarkson Memorial School of Nursing Established
In 1888, the hospital organized the first training school for nurses in Nebraska, the Bishop Clarkson Memorial School of Nursing, under the leadership of Meliora Clarkson.
---
1890: First Graduating Class
The school graduated its first nursing class in 1890.
---
1902: Three-Year Program Offered
As the school grew in enrollment, its offerings grew as well. After starting with a two-year diploma program, the Bishop Clarkson Memorial School of Nursing began offering a three-year program in 1902.
---
1910: Alumni Association Established
The Bishop Clarkson Memorial School of Nursing drafted a constitution and by-laws to establish an official, operating Alumni Association.
---
1917: Nursing Graduates Serve in WWI
Enrollment continued to grow and when the first 10 Nebraska Red Cross Nurses were sent to France for service in World War I in 1917, half of them were Bishop Clarkson Memorial School of Nursing graduates.
---
1936: School of Nursing Transferred
In 1936, Bishop Clarkson Memorial School of Nursing moved to new facilities at 26th and Dewey Streets, with students housed in several nearby homes. That move was followed by the building of a new dormitory across the street from the Bishop Clarkson Memorial Hospital. During that time, the school actively participated in the U.S. Cadet Nurse Corps program.
---
1955: Cessation
Challenges loomed in the 1950s, and budget problems forced the Bishop Clarkson Memorial School of Nursing to close in 1955.
---
1960: Reopening & Relocation
The Bishop Clarkson Memorial School of Nursing reopened the doors of its new building to 50 students on Sept. 12, 1960. Peter and Evelyn Kiewit were the primary benefactors behind the construction of the new training school building.
---
1966: Nurses Aid in Vietnam War
Clarkson College Nursing graduates once again helped America in its outreach to the world. In 1966, 11 graduates traveled to Vietnam as part of an 11-month tour.
---
1981: Coordinating Commission Approves Degree-Granting Program
The Nebraska Coordinating Commission for Post-Secondary Education approved a petition that advanced the Bishop Clarkson Memorial School of Nursing to a college of nursing offering a four-year Bachelor of Science in Nursing degree.
---
1982: Bishop Clarkson College Established & National League of Nursing (NLN) Accreditation
The Bishop Clarkson Memorial School of Nursing changed its name to Bishop Clarkson College and received National League of Nursing accreditation for its diploma program. The institution was also granted candidacy status from the Commission on Institutions of Higher Education of the North Central Association (NCA) for initial accreditation for two years.
---
1984: Initial NCA (now Higher Learning Commission) Accreditation
The College receives accreditation of the Bachelor of Science in Nursing degree by NCA for five years and the Nebraska State Board of Nursing.
---
1987: First President
Dr. Patricia Book Perry fostered a promising future for Bishop Clarkson College when she was appointed president in 1987.
---
1987: Board of Directors Established
The first Bishop Clarkson College Board of Directors was approved and appointed in 1987.
---
1988: Baccalaureate Nursing Program Gains National Accreditation
In 1988, Bishop Clarkson College received full eight-year accreditation from the National League for Nursing (NLN).
---
1989: NCA (Now Higher Learning Commission) Extends Accreditation for 10 Years
Bishop Clarkson College received 10-year accreditation status from the North Central Association (NCA) of Colleges and Schools Commission on Institutions of Higher Education.
---
Early 1990s: Academic Offerings Broaden
National accreditation for the College was followed by a major expansion of academic offerings in the early 1990s, including the introduction of online education in Medical Imaging (1993) and Healthcare Business (1996). In addition, the Allied health associate programs in Radiologic Technology (1991), now known as Radiography, and Physical Therapist Assistant (1994) were introduced.
---
1992: College Name Changed to Clarkson College
In 1992, the College changed its name from Bishop Clarkson College to Clarkson College.
---
1998: Breakthrough in Online Education
An online learning management system made it possible for students to complete their courses from a distance.
---
1999: Academic Travel Abroad (ATA) Begins
The Academic Travel Abroad (ATA) program travels to Ireland for its first trip.
---
2004–06: Student Center, Residence Hall & Clarkson Service League Heritage Garden
In 2004, the College opened a two-story Student Center complete with a Bookstore, community commons area and student success center. Connected to the Student Center is an apartment-style, 140-bed Residence Hall. In 2006, the Clarkson Service League Heritage Garden and courtyard completed the space between the Student Center and main College building.
---
2009: Renovation of the Student Services Suite
The renovation of the Student Services Suite in 2009 brought many student-centric services together in one location, including Admissions, Registrar, Financial Aid and Student Accounts. The change created a convenient, welcoming space for students and visitors.
---
2010: Rebranding Clarkson College and Nurse Anesthesia Program Implemented
The logo and brand tagline were updated to reflect the Clarkson College Mission, student learning experience and academic program offerings. The College also enrolled its first class in the Master of Science in Nursing in Nurse Anesthesia program option, the only program of its kind in the Omaha area.
---
2011–13: New Library & Simulation Labs
The Clarkson Service League Library was relocated and renovated in 2011 offering students quiet study spaces and access to print and online resources. Soon thereafter in 2012 and 2013, two state-of-the-art Simulation Labs were constructed on the fourth floor of the main College building. The new Simulation Labs were equipped with simulated adult and infant patients (mannikins) that display conditions ranging from stagnant to high-fidelity. The Labs enabled students to learn and practice in a realistic, risk-free environment.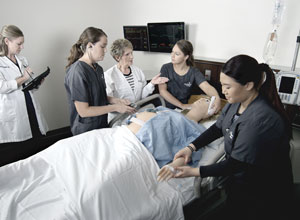 ---
2013: Bachelor of Science Healthcare Services Begins
The Bachelor of Science in Healthcare Services program option is established. The program named changed to Community Health in 2017.
---
2013–14: First Doctoral Programs Open
The Doctor of Healthcare Education and Leadership (Ed.D.) program opened in 2013, followed by the Doctor of Nursing Practice (DNP) program in 2014. Both programs received approval by the Higher Learning Commission (HLC) in 2012.
---
2014: Faculty Office Upgrade
The College recognized the importance of single, private offices for faculty and constructed a 37-office suite to allow for proper space to prep for classes and work on course development.
---
2017: Bachelor of Science in Physical Therapist Assistant Begins
Clarkson College implemented a Bachelor of Science in Physical Therapist Assistant degree option, one of only three in the nation in summer 2017.
---
2018: Science Lab Renovation & Dedication
Clarkson College renovated its Science Lab in summer 2018, and the lab is equipped with the best in technology, safety and equipment for students to work in an exceptional learning and teaching environment. In Fall 2017, the Lab was dedicated to honor long-time General Education Associate Professor Mary E. Balken who died in May 2016. The Mary E. Balken Science Lab is a testament to Balken's 17-year dedication to the College, and she continues to live on through the work being done in the space where she loved to teach.
---
2018: First College Spirit Week
The new Spirit Week tradition took place in September 2018 with daily events celebrating the five College Values of Learning, Caring, Commitment, Integrity and Excellence.
---
2019: Interprofessional Learning Center Opens
The Interprofessional Learning Center opened its doors in fall 2019. The renovated space features four fully equipped exam rooms, six hospital patient beds with working headwalls, a nurse's station, six exam tables, classrooms and faculty offices. The area also features an operating room complete with hospital-grade hand washing sinks and overhead lighting, a fabricated home setting and a debriefing room with video technology. 
---
2020: College Remains Open During Pandemic
During the COVID-19 pandemic, Clarkson College never closed its doors, seamlessly transitioned to online classes and ensured that no student had to delay or postpone graduation due to the College response to COVID-19. The College was also able to support students in need of food, utilities and other general living expenses by distributing over $450,000 in relief funds through the CARES Act and the College Emergency Fund, which is funded by Clarkson College employee donations.
---
2021: Clarkson Commons and Education Center Opens
In January 2021, the College opened the doors to the new Clarkson Commons and Education Center, located at 42nd and Douglas Streets in the former Clarkson Family Medicine building. The 14,000 square feet space features three multipurpose, high-tech classrooms with stadium-like seating for a better learning experience and provides faculty the opportunity to teach in a modern space. The building also offers open study space and four private group study rooms, each equipped with technology allowing students to share and collaborate as they learn and houses the Center for Teaching Excellence.
---
2023: Ribbon Cutting Unveiled Second Science Lab
A special ribbon cutting ceremony on April 17, 2023, marked the opening of a $1.7 million second science lab at Clarkson College. This new lab is integral to foundational science courses students take to prepare to be the best in a variety of health care curriculum offered.